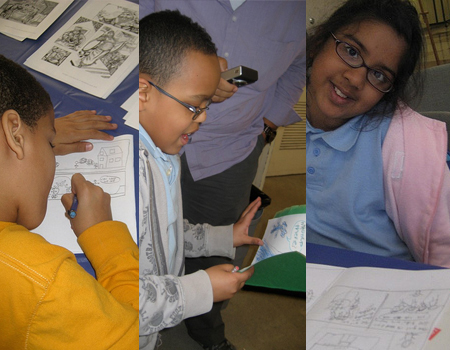 On April 27th I had the pleasure of leading an after-school program with students from the Progressive Dominican Alliance After-school Program in Washington Heights, Manhattan. Also in attendance were volunteer students from the Yeshiva University student body that had helped set up the program. The title of the workshop was Tell Your Own Megillah.
Thirteen 4th and 5th graders made their own 'megillah' comix. Each student created a story that reflected their interests and some of the problems their community face. I introduced the kids to the story of Esther using images from my graphic novel in a Powerpoint presentation and told the story of Purim in very simple and straightforward terms. I then asked the students to identify the key elements of a good story so that they could craft their own megillah.
One boy drew robots another fought battles under the sea, while one girl used images from Megillat Esther to tell the story of a shopaholic girl. For 90 minutes the ten year-olds were focused and excited about their work. None of the students were stumped about what to write, they instantly began working and drew, colored, and pasted epically small vignettes in the form of mini comix.
The story of Esther wasn't too foreign for the young Dominican students.
Her problems, and exotic setting blended right into the exaggerated far off worlds of comix. The students seemed at ease using panels and other comix conventions. But I have to admit the best part of the workshop was seeing the smiles on the kids' faces as they were so satisfied with their completed comix.
Check out some of the photos from the afternoon, including examples of student art.